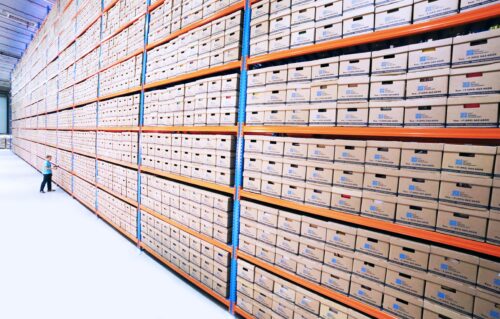 We all know how integral warehousing is to any supply chain, and how a lack of effective storage solutions can negatively impact a business and its customers. The role warehousing plays directly affects many elements, from managing stock and inventory to delivering orders to your end customers.
Choosing the most appropriate location for warehouse storage is essential given its ability to boost your business and facilitate growth. You might be wondering, what's the best way to go about selecting the right warehouse storage for your business? There are several important factors that you'll need to take into consideration before you take the plunge, including location, access, labour requirements and capacity, storage demands, and space requirements. Below, we'll run through some key factors that you should bear in mind when looking into warehousing solutions for your business.
Location 
This is potentially the most important factor that you need to take into consideration, as the location of your warehouse will directly affect your entire supply chain, so choose carefully. Some key points to bear in mind are: select a warehouse that is in proximity to your target audience/market and prioritise warehouses that are suitable for your specific needs. Your customers might be scattered all over, so if this is the case, you should pick a warehouse that is centrally located. Having a warehouse near consumers cuts down on shipping costs and time, saving both you and your customers money and ensuring faster delivery.
Access
The warehouse you select should be easily accessible to minimise the likelihood of deliveries being delayed. Some factors to bear in mind include road conditions and safety, proper road signage, access to public transportation, nature of traffic and highway interconnectivity.
Labour requirements & capacity 
Finding the right warehouse space is only part of the process. You'll also need skilled workers to carry out the work in the warehouse. Employing the right people is crucial, and finding reliable, qualified people in the area will be something you'll have to bear in mind when picking a location. Competing businesses in the area might be a barrier to expanding your workforce, ultimately limiting available labour capacity, so be wary of this as well.
Storage requirements
Certain types of products that require strict storage requirements such as food and perishable items, hazardous materials and flammable products, need to be handled sensitively. So, the warehouse solution that you select needs to be able to cater to your unique needs.
Technology 
Whichever facility or warehouse storage option you go with should be fully equipped with fulfilment software to help with tracking inventory and order shipments efficiently and in real-time. The appropriate software will automate processes and make inventory management and warehouse operations run smoothly and easily.
Bay size, ceiling height and space
Elements such as ceiling height, bay size and internal space should also be of concern when selecting the appropriate warehouse facility. This is of special relevance for businesses that have large industrial equipment to store, where the width and height of the warehouse will impact how these items are stored. 
By taking the time to consider the above factors, you'll hopefully be better placed when it comes to picking the best warehousing for your needs and requirements. By selecting the most appropriate warehouse space with regards to elements such as location, labour force availability and access, you can ensure that your business has a warehousing solution that is efficient and reliable, saving you money and time in the long run.